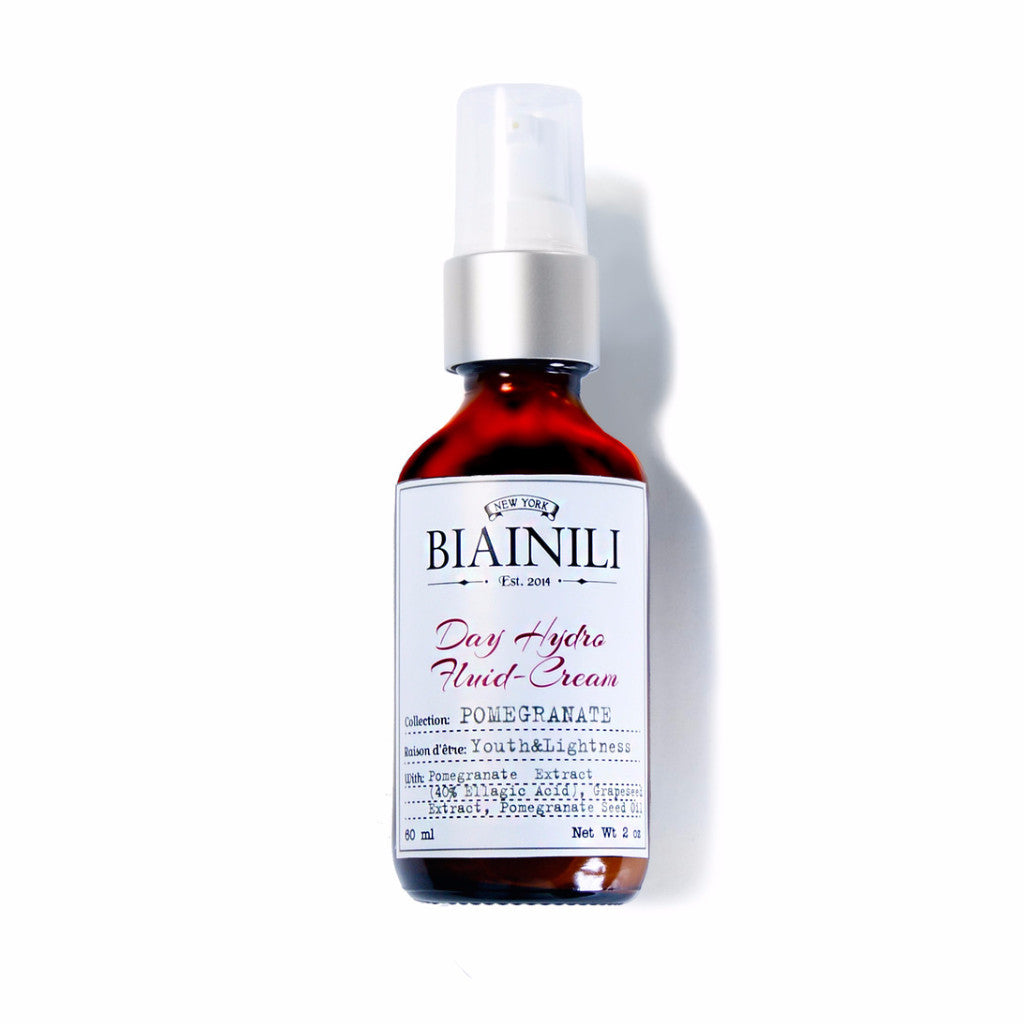 POMEGRANATE DAY HYDRO ANTIOXIDANT FACE FLUID CREAM
$ 75.00
DESCRIPTION
BENEFITS
DIRECTIONS
KEY BOTANICS
INGREDIENTS
Unique ultra light cream-fluid is a concentrated daytime moisturizer, specially designed for an active treatment of face, neck and décolleté area. Contains Precious Pomegranate Oil and Extract, supercharged with antioxidants and providing conditioning effect on skin upper layer and works deep beneath. 
Fluid evens the skin tone, tightens skin, re-plumps smooth skin texture, and provides boosted antioxidant action for upper and deep epidermal layers.
Provides boosted antioxidant action with Pomegranate Night Repair Cream, or can be used separately as a light moisturizer. 
For all skin types. 
Free of parabens and synthetic colorants.
Based on three potent ingredients: pomegranate extract, containing 40% of Ellagic acid - a very strong antioxidant, precious pomegranate oil, known for highly conditioning effect and extract of grape seeds, full of polyphenols, defying age signs. Slightly scented with a balanced mix of 4 essential oils such as patchouli, orange, rosemary and frankincense which will fight bacteria and positively charge your feelings.
Apply anytime, by gently dabbing a small amount. Daytime - If used throughout the day, fluid will moisturize and support skin's natural glow and tightness. Apply anytime on the clean skin of face, neck and décolleté area. Night - using fluid before sleep will boost skin's ability to recharge and rehydrate during its nightly repair process, plumping and improving texture, tone, and firmness. Apply after cleansing procedures in the evening.
Best storage conditions: dark dry place, from 21C/70F to 28C/82F.
Best use within 12 months after opening. 
Make sure you have no personal allergies to some of the natural ingredients before using this product.
Pomegranate Seed Oil, Pomegranate

 Extract

 

 (emollient, texture, anti-age, antioxidant, smoothing)

Aloe Vera Juice, Sodium PCA (moisturizer, calming)

Shea Butter (calming, emollient, refiner)

Grape Seed Oil (emollient, antioxidant, refiner)

Vitamin E (antioxidant)

Creatine Monohydrate (collagen production trigger)

Rosemary Oil and Extract (anti-inflammatory)

Sweet Orange Peel Oil (revitalizing)

Indian Jasmine Attar/Extract (calming, refining)

Patchouli Oil (antibacterial)
Water (Aqua), Punica Granatum (Pomegranate) Seed Oil, Sodium Acrylate, Acryloyldimethyl Taurate Copolymer, Isohexadecane, Polysorbate 80, Caprylic / capric triglyceride, Sorbitan Laurate, Polyglyceryl-4 Laurate, Dilauryl Citrate, Vitis Vinifera (Grape) Seed Extract, Sodium PCA (Sodium L-pyroglutamate), Glycerin, Cyclomethicone (and) Dimethicone, Punica Granatum (Pomegranate) Fruit Extract, Aloe Barbadensis (Vera) Leaf Juice, Butyrospermum Parkii (Shea) Butter, Rosmarinus Officinalis (Rosemary) Leaf Extract, Phenoxyethanol (and) sorbic acid (and) Caprylyl Glycol, C12-15 Alkyl Benzoate, Tocopheryl Acetate (Vitamin E), Tocopherol (Vitamin E), Creatine monohydrate, Benzyl alcohol (and) Dehydroacetic Acid, Polysorbate 60, Caprylyl Glycol (and) Ethylhexylglycerin, Maltodextrin, Tetrasodium EDTA, Perfume, Rosmarinus Officinalis (Rosemary) Leaf Oil, Pogostemon Cablin (Patchouli) Oil, Citrus Aurantium Dulcis (Orange) Peel Oil, Jasminum sambac (Jasmine) Extract, Limonene, Linalool, Citral, Benzaldehyde, Benzyl alcohol, Benzyl Benzoate, Benzyl salicylate, Cinnamic alcohol/Cinnamyl alcohol. .